MEET THE VENDORS BEHIND NGAMAI MARKETPLACE
Ngamai Marketplace showcased the heart and soul of our Ngamai entrepreneurs and business community.
We encourage you to reach out to our Ngamai business community if you find something that catches your eye.
A digital version of the Ngamai Marketplace brochure can be downloaded here.
AARLIFASHION.COM
AARLI is a sustainable and ethical fashion brand that specialises in unisex deadstock apparel, upcycled streetwear and sustainable travel accessories. AARLI empowers an emerging generation of 'Urban Warriors', influences society's perceptions of First Nations people, and provides developmental opportunities for next generation models.
AMBERDAYS.COM.AU
Amber Days is a Melbourne-based ethical childrenswear label by designer, Corina. Taking inspiration from the Australian bush, desert and sea, Amber Days is made for the mindful, adventurous, free-spirited little ones who are the next generation of changemakers.
AMBERSFOODWRAPS.COM
Amber's Food Wraps is Indigenous owned and made on Gundungurra country by owner, Eve. Amber's Food Wraps are a natural way to cover your foods keeping them fresher for longer and are made from 100% cotton designed by a First Nation mob from the Northern Territory.
BLACKGIN.COM.AU
Blackgin is an award-winning Wurundjeri artist living on Dja Dja Wurrung Country in the Central Goldfields of Victoria. Blackgin has expanded her practice into a range of unique gift and homewares using paperbark. Each piece is a one-off original and is guided by the colours and texture of the bark.
CLOTHINGTHEGAP.COM.AU
Clothing The Gap is a Victorian Aboriginal owned brand where 100% of profits actively support health promotion activities for Aboriginal communities. Clothing The Gap are actively supporting health promotion programs delivered by the Aboriginal community and currently backing Spark Health Australia.
MINELLE46@OUTLOOK.COM
Minelle Creed is an Aboriginal woman descended from the Kalkadoon and Gunggari peoples in Queensland. In her spare time, Minelle has taken up painting, arts and crafts. Minelle likes to paint contemporary Aboriginal designs on shoes, handbags and guitars. Minelle also likes creating jewellery using emu feathers, crystals or glass beads and native seeds.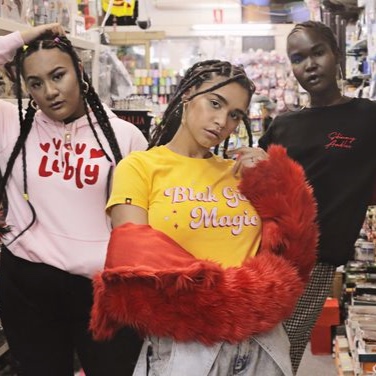 GAMMINTHREADS.COM
Gammin Threads was born from founder Tahnee's love of typography, language and black pride. Tahnee's creations are for those who believe in the power of living colourfully, paying respect and empowering women.
GATHERMOREFLOWERS@OUTLOOK.COM.AU
Launched at the marketplace, Rory and Emily Smeaton specialise in catering floral arrangements for all size events, from large corporate and community events. Gathermore personalises every order to ensure any and all artistic floral visions are brought to life.
GRACELILLIANLEE.COM
Grace Lillian Lee is a multicultural Australian artist known for drawing inspiration from her heritage. Through collaborations with Indigenous communities and their art centres, she has created a platform for cultural expression and celebration by way of fashion performances.
HAUSOFDIZZY.COM
Haus of Dizzy is an Indigenous owned jewellery brand brought to life by Kristy. Kristy creates oversized acrylic pieces which she designs, laser cuts, paints by hand and assembles in her studio in Collingwood, Victoria.
INDIGIEARTH.COM.AU
Founded by Sharon Winsor, a Ngemba Weilwan woman of Western NSW, Indigiearth is an award winning Aboriginal owned and operated business, showcasing the best of Australian native products, including food and skincare.
JARINSTREET.COM.AU
Jarin Street is a label focusing on accessible, wearable, usable and ethical Aboriginal art. Jarin Street supports up and coming Indigenous artists to get their designs out there and seen in everyday life through their exlusive yoga mats. All yoga mat designs are 100% authentic Aboriginal art.
THEKOORIECIRCLE.COM.AU
Laura Thompson is a Gunditjmara woman and artist living and working in Melbourne. The designer and maker behind The Koorie Circle, Laura creates contemporary Aboriginal designed and inspired jewellery made from sustainably sourced timber.
KOORIEPRINTS.COM.AU
Koorie Prints is a 100% Aboriginal owned creative business, founded by Mikaela Egan and Casey Atkinson. Koorie prints combines Aboriginal inspired artwork with contemporary designs that are suitable for all homes and offices.
LIANDRASWIM.COM
Liandra Swim fuses Aboriginal Australian culture with on-trend premium swimwear. Inspired by Aboriginal Australian culture, each print tells a unique story, combining 21st century living with the Aboriginal pastime of storytelling.
LOREAUSTRALIA.COM
Proudly First Nation owned and operated, LORE Australia is a health and wellness company using native bio-foods. LORE Australia provide Australian native bio-foods that enhance quality of life and facilitate a connection with the land from which they are sourced.
MABUMABU.COM.AU
Mabu Mabu is a Torres Strait owned and run business with an emphasis on using fresh, seasonal and native ingredients to create beautiful dishes that bring people together. Mabu Mabu inspires people to understand native flavours and to incorporate them in their everyday cooking.
MIIMIANDJIINDA.COM
Miiimi & Jiinda is a new Australian art business founded by Aboriginal mother and daughter, Melissa Greenwood and Lauren Jarrett. Miimi & Jiinda's traditional and contemporary Aboriginal artworks and hand woven baskets tell visual stories about Country and kin from the oldest surviving culture in the world.
NGARGAWARENDJ.COM
Ngarga Warendj – Dancing Wombat produces high quality contemporary Indigenous art, using designs based on traditional symbols from Southeast Australia. Ngarga Warendj features a range of gift lines and fine arts that interpret Mick's story of culture as a Taungwurrung Kulin man.
NUNGALACREATIVE.COM
Nungala Creative is a 100% Aboriginal owned and operated creative communications agency. Established by proud Warumungu Wombaya woman Jessica Johnson, Nungala Creative produces innovative content with a distinct Aboriginal voice.
PAWACATERINGANDEVENTS.COM
Pawa means 'to cook' in Gundijtmara language from the South West coast of Victoria. Pawa Catering and Events are a family owned and operated business, run by experienced husband and wife team, Niyoka and Vin. Pawa offers original menu items featuring Aboriginal bush foods and flavours.
RACHAELSARRA.COM
Rachael Sarra is a contemporary Aboriginal artist and designer from Goreng Goreng Country. Rachael uses art as a powerful tool in storytelling to educate about and share Aboriginal culture. Her style is feminine, fun and engaging but is strongly drawn from her heritage and her role as an Aboriginal woman in a modern world.
SHETAKESPHOTOS1@GMAIL.COM
She Takes Photos is a new business venture by photographer and social media entrepreneur, Allira Potter. With a very creative background in the arts, Allira has always been a natural behind the camera. With a significant demand for her services, Allira has transformed She Takes Photos into a visual blog featuring food, lifetyle and travel photography.
SMOKEANDOCHRE.COM.AU
Smoke and Ochre specialises in handcrafted bush medicine traditionally used by the oldest culture in the world, the Indigenous people of Australia. Crafted by three generations of strong Indigenous women, Smoke and Ochre showcases the rich history and knowledge of Indigenous bush medicines.
SONIAPALLETT.COM.AU
Sonia is the eldest of four children born and raised in Wiradjuri Country, the land of the three rivers, Dubbo, NSW. Sonia has created a collection of wearable art using ancestral storytelling symbols, helping everyone understand and appreciate Aboriginal Australian culture.
STREETFEASTMELBOURNE.COM.AU
Street Feast is the original 'low and slow' street food vendor in Melbourne and is the work of husband and wife team, Dale and Jenni. Dale has meticuously created Street Feast's signature; a secret recipe dry rub with a blend of herbs and spices that is cooked with all the meats for a true Street Feast.
TAYLAHAIMEE.COM.AU
Taylah is an Indigenous textiles designer and artist. Her heritage, culture and love of plants has influenced her art and design. Taylah works closely with other Indigenous women in business to ensure there is a strong community for women to thrive in.